Soon after joining Facebook this year I noticed 3 modest Bing search results at the bottom of any search results list. Normally you don't notice these, as most topics/names have dozens of FB page results which push the Bing results off the radar. But if you bother to scroll to the bottom of the list, it becomes clear that a FB/MS relationship has already been struck.
AOL SEARCH REDUX

It also occurred to me that Facebook's SEARCH box is currently a throwback to the days when AOL users lived in ignorant bliss that there was actually an "internet" out there that the rest of us were playing in. AOL users never heard of Yahoo, Infoseek, Altavista, Lycos or Excite and instead did 100% of their searching via the painfully limited AOL engine.

How is Facebook any different? In one big way... Bing is coming (fingers crossed).
FACEBOOK TRAFFIC WINDFALL

With the melding of Bing and Yahoo this month, Mr. Gates tripled his 10% search share overnight and Jerry Yang has more time to enjoy his 24 karat gold collection of Star Wars action figures. Serving 30% of the planet's search traffic is not small feat, but what happens if Mr. Zuckerberg decides to send his 500,000,000 Facebook users to Bing by integrating full-throttle search into the FB search bar? I'll tell you what happens. Bing stands a chance at a 50% search traffic grab and Señors Page and Brin get bigger therapy bills.
Google's been king of the hill for the past 10 years, but online marketers like myself have been feeling the sting of dealing with the algorithmic whims of the Search Giant for too long. Sites that have enjoyed #1 positions for all relevant search terms for years on end can be suddenly and unceremoniously dumped to page 15 or beyond... sometimes to miraculously reappear at #1 within a week or 2... sometimes never to recover.
BING SHOPPING MAKES IT'S DEBUT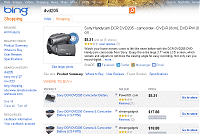 MS recently launched Bing Shopping a price comparison shopping service and the heretofore Evil Empire's answer to Google Product Search. They assign a rep to your account who helps you through the product feed submission process. Needless to say, for the benefit of my many shopping sites, my membership application was completed on day 1.
Now I wait... for FB to dump 500 million shopaholic users into Bing. Let the cash registers ring.